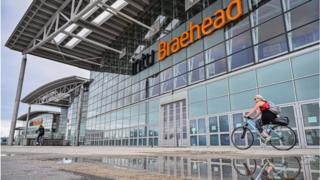 The owner of some of the UK's biggest shopping centres, Intu, has warned that it is likely to call in administrators.
The firm, which owns the Trafford Centre, the Lakeside complex, and Braehead, said it had not reached an agreement in financial restructuring talks with its lenders.
Its centres are expected to stay open if it falls into administration, at least in the short term.
Intu has already warned that longer term some of its centres may close.
The company is the UK's biggest shopping centre group, with 17 centres in the UK and three in Spain.
Should Intu fall into administration, the shopping centres are likely to remain open while the administrators decide what course of action they want to take.
Options will include trying to sell the centres on to other potential buyers.
Intu had been struggling even before the coronavirus outbreak, and about 132,000 jobs in the company and in its wider supply chain will be in question should the firm fall into administration.
Retail expert Kate Hardcastle said one area of concern was Intu's £4.5bn debt, given the declining value of its shopping centres.
They "just aren't worth the value they once were", she told BBC Breakfast.
While the coronavirus crisis forced the closure of all non-essential shops, retailers had already been under pressure from a host of factors including changes in shopping habits as people move online.
Big shopping centre landlords such as Intu rely on big retailers for their revenues – but in recent years retailers have been asking landlords for rent reductions due to the pressures they are under, Ms Hardcastle said.
Intu's centres were partially shut during the coronavirus lockdown, with only essential shops remaining open. The company had about 60% of shopping centre staff and about 20% of head office employees on furlough.
In its update to investors on Friday, Intu said it had failed to reach agreement in discussions with lenders on so-called "standstill" terms, under which it would look to defer interest payments on its large and complex debts.
It was also seeking agreements from its wide range of creditors, from big banks to hedge funds, for them not to take action if it breached certain terms on its loans.
Intu has already lined up administrators KPMG as a "contingency".
Intu's UK shopping centres