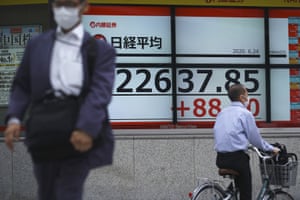 Good morning, and welcome to our rolling coverage of the world economy, the financial markets, the eurozone and business.
Investors continue to be torn by optimism that the world economy is healing, and anxiety that a surge in Covid-19 cases could trigger fresh lockdowns and a deeper recession.
Overnight, Asia-Pacific stock markets have nudged their highest levels since early March, when the pandemic was gripping global markets.
South Korea's Kospi 200 is the best performer, jumping by 1.8%, while Australia's S&P/ASX gained 0.2% and China's CSI300 index picked up 0.3%.
This has pushed the MSCI index of Asia-Pacific shares outside Japan up 0.5% to its highest since pandemic lockdowns first cratered markets in early March, Reuters reports.

Jingyi Pan, market strategist at IG, says there are uncertainties of the lingering impact from the global pandemic, but….



Despite evidence of virus surges across the US, the market's faith in reduced likelihood of the return of massive lockdowns had enabled investors to largely shrug off that concern.
Europe, though, is expected to dip around 0.6% at the open, after seven US states reported their highest coronavirus patient admissions in the pandemic so far.
Arizona, Arkansas, California, North Carolina, South Carolina, Tennessee and Texas –which also confirmed a record daily case increase on Tuesday – each admitted record numbers of infected people to hospital, the Washington Post reported.
California saw record infections, too, with more than 5,000 in a single day for the first time, as Arizona, Nevada and Missouri also reported record case increases.
Fiona Cincotta of City Index explains:



Reopening optimism is showing signs of fading with European stocks pointing to a lower open following two days of gains. The same stubborn optimism that saw Asian stocks creep up to 4-month highs overnight is not being felt here in Europe.

A quiet economic calendar will leave risk sentiment in the driving seat.
White House health adviser Dr. Anthony Fauci has also focused minds on the crisis, by warning that parts of the US are beginning to see a "disturbing surge" of Covid-19 cases.
Shares are being supported by some better-than-expected surveys of purchasing managers released yesterday, showing that the UK's factory sector has stabilised and France's companies were growing again.
Hopes of another US stimulus package are also putting a floor under shares. US treasury secretary Stephen Mnuchin has suggested new legislation could be brought forward next month, telling reporters:



"We're talking about a bunch of different ideas that we may need to do in another bill, and we want to take our time and make sure we're thoughtful.

"So whatever we do it'll be much more targeted, much more focused on jobs, bringing back jobs and making sure we take care of our kids."
Coming up today
The International Monetary Fund will issue new economic forecasts later today, which may give an even gloomier view of the outlook than back in April.
As Bloomberg predicts:



Two months after its dire predictions of the steepest recession in almost a century, the International Monetary Fund will release new global economic forecasts this week that will probably look even worse.

Officials at the Washington-based Fund have warned that a revised outlook due on Wednesday may feature a more pessimistic view than in April. Back then, they said the "Great Lockdown" caused by the coronavirus would force a global contraction of 3% this year.

A gloomier forecast might reflect their assessment of the severity of damage caused by the widespread shutdown in activity. The U.K. economy, for example, instantly shrank by a fifth in April alone.
We also get new business confidence reports from France and Germany, which may show a pick-up in morale.
The agenda
7.45am BST: French business confidence for June. Expected to rise to 80 from 70.
9am BST: IFO survey of German business climate for June. Expected to rise to 85 from 79.5
2pm BST: IMF releases updated World Economic Outlook
3.30pm BST: US weekly oil inventory statistics