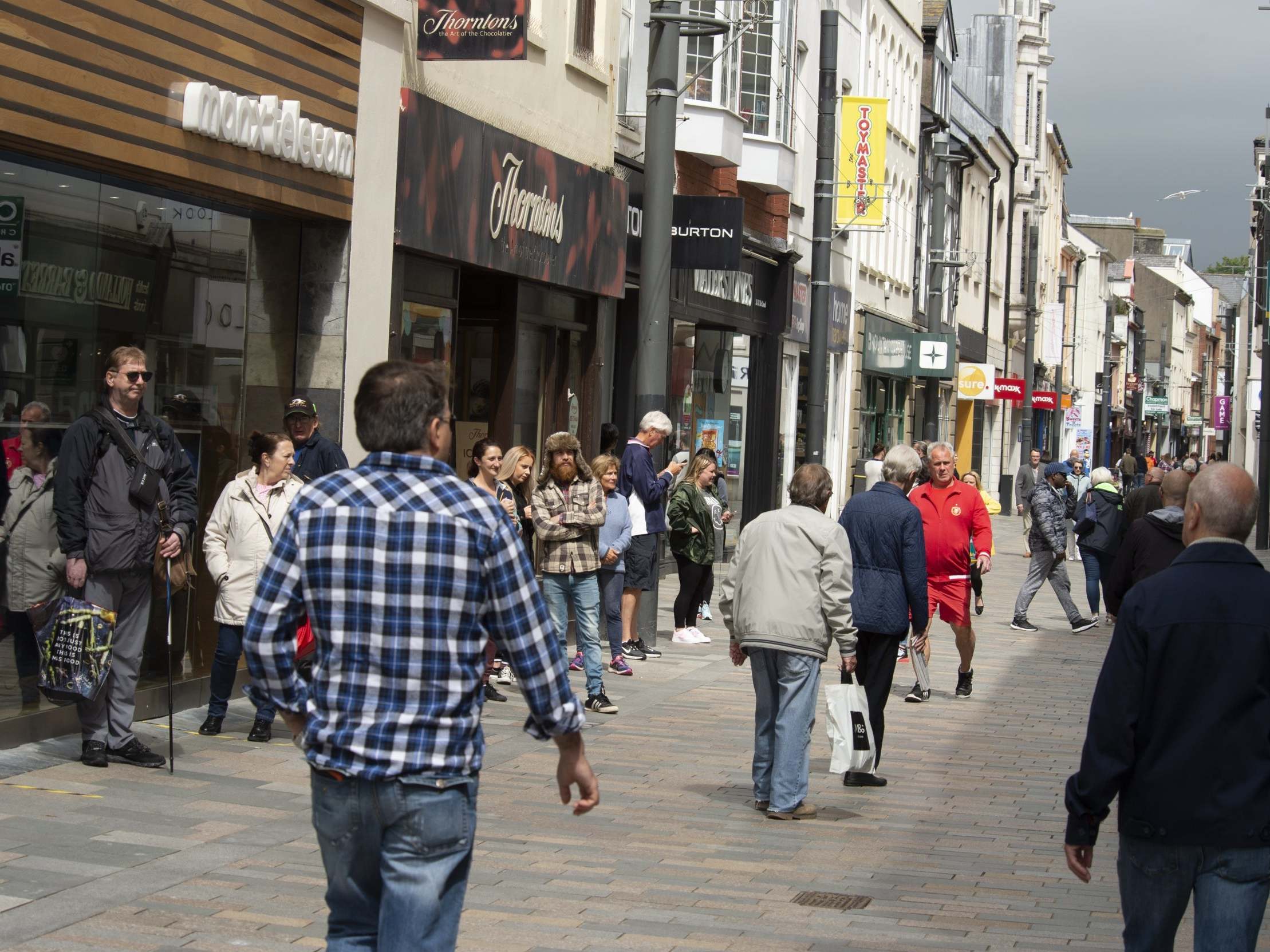 Britain's high streets will begin to get back to something like normality next month when non-essential retailers are allowed to open their doors again after almost three months in lockdown.
That will come as some relief for businesses, many of which were already struggling before the coronavirus pandemic hit.
But what will the socially distanced shopping experience be like?
We have a rough idea of what to expect from supermarkets' approach: limited numbers of people in stores means there will be queues outside; shoppers will be greeted by employees wearing face masks and maybe other PPE; perspex screens will shield checkouts. There will be hand sanitiser readily available and arrows on the floor directing us which way round to go.
Ikea and John Lewis are among retailers to have said they will introduce "social distance wardens" to ensure people are kept apart and obeying the rules.
A gradual reopening
High streets are also likely to be a lot quieter than we're used to. Only a relatively small percentage of shops are likely to open their doors on 15 June as most retailers have said they will take a gradual approach, testing out the new way of doing things on their most spacious and easily adapted stores.
Next, for example, says it will open just 25 of its 500 UK stores on the first day. John Lewis has also said it will take a cautious approach to reopening.
Richard Lim, chief executive of consultancy Retail Economics, forecasts that shopping centres will be even slower to reopen than high streets because people will prefer to shop in local, familiar, open-air environments, rather than travel to large complexes.
He points out that shopping centres often attract consumers looking for a day out by offering an array of food options and other leisure experiences, nearly all of which will remain closed.
Some chains have simply stopped paying rent on stores that are closed and will be reluctant to reopen shopping centre locations (which tend to be the most expensive) when they don't know how many shoppers will come through the door.
On the other hand, out-of-town retail parks can adapt much more easily to social distancing because shoppers can drive to them easily rather than taking public transport, plus they generally have big stores with plenty of space, as well as outside areas for queueing.
Demand
Boris Johnson has urged people to support struggling shops and the wider economy by going out and spending their money, but a big question mark remains over the level of demand retailers can expect.
Some people, particularly those most vulnerable to Covid-19, will still not feel comfortable heading to the shops to be exposed to large numbers of people.
Others will have grown used to the ease of online shopping while many more may have lost their jobs or be concerned about their financial position.
"There is potentially a big gap between what people expect the experience of shopping will be like and the reality of that experience when retailers reopen," says Lim.
"Shopping is all about having a social experience, it's supposed to be enjoyable. It might be a shock to some people, being met with a shop-floor worker wearing a mask, being asked to sanitise your hands, and have a social distancing warden walking around telling people to stay in certain areas.
"It could really undermine that experience and just push people even more towards online shopping."
Lim believes the impacts of the guidance will be felt very unevenly across the retail sector depending on a number of factors.
Value clothing retailers like Primark are likely to find things tough because their stores need a lot of people coming through to make a profit. People also pick up and put down items often and the stock is normally densely packed, something that will have to be reconsidered in a socially distanced era.
Footwear retailers will find things even tougher as the way we buy shoes is forced to change. The new guidelines require a shoe shop to take any shoe that has been tried on by a customer and store it for 72 hours before putting back out on the shop floor. That will make storage impractical and could leave stores unprofitable.
How can retailers adapt?
"We are likely to see a step change in retailers' efforts to merge online and offline shopping experiences," says Lim.
That will be through more click-and-collect services, and more inventive ways to get people in stores and excited by what they see. If they then buy online after that it doesn't matter.
Lim points to the example of Zara in Shanghai which is "like an art exhibition".
"Everything is on display but you go around, open [Chinese messaging and shopping app] WeChat and scan the QR code for things you're looking at buying.
"You then go to a changing room and the items are waiting there for you in your size or you just press a button and get it delivered to your home."
This model of the shop as more of a showcase is one that many retailers have been moving towards, but it requires significant investment at a time when many will be tightening their belts.
Whatever happens, retailers need a significant turnaround in their fortunes or there will almost certainly be large-scale store closures, job losses and collapses into administration.
Helen Dickinson, chief executive of the British Retail Consortium, sums it up: "Lockdown has cost non-food stores £1.8bn a week in lost revenues and with sales expected to remain weak, even as shops begin to reopen, many retailers will still be in a fight for survival.
"Government must act to ensure that retail rents take account of the ongoing crisis in the industry. Swift action would protect jobs and businesses – helping retail to play its part in restarting the UK economy."