Good morning, and welcome to our rolling coverage of the world economy, the financial markets, the eurozone and business.
UK house prices have accelerated to a fresh record high, as the property market rebounds after the Covid-19 lockdown.
New figures just released by Nationwide show that the cost of the average house surged by 2% in August alone, up to £224,123 from £220,935 in July.
That's the biggest monthly rise since 2004 – and the highest recorded by Nationwide.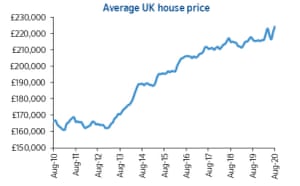 On an annual basis, prices were 3.7% higher than a year ago — a much faster rise than expected (economists had forecast a 0.5% monthly rise – and 2% year-on-year).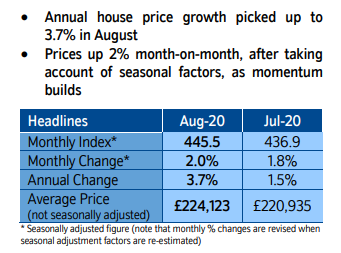 Robert Gardner, Nationwide's chief economist, says 'behavioural shifts' are helping to drive the housing market, as some people look to move to a house better suited to home working.



"UK house prices rose by 2.0% in August, after taking account of seasonal effects, following a 1.8% rise in July. This is the highest monthly rise since February 2004 (2.7%). As a result, annual house price growth accelerated to 3.7%, from 1.5% last month.

"House prices have now reversed the losses recorded in May and June and are at a new all-time high.

"The bounce back in prices reflects the unexpectedly rapid recovery in housing market activity since the easing of lockdown restrictions.

"This rebound reflects a number of factors. Pent up demand is coming through, where decisions taken to move before lockdown are progressing. Behavioural shifts may also be boosting activity, as people reassess their housing needs and preferences as a result of life in lockdown. Our own research, conducted in May (link), indicated that around 15% of people surveyed were considering moving as a result of lockdown.

"Moreover, social distancing does not appear to be having as much of a chilling effect as we might have feared, at least at this point.
This comes just a day after the number of new mortgage approvals jumped by 40% in a month, up 26,000 in July to 66,300.
Net mortgage lending rose by £2.7bn, the Bank of England reported on Tuesday.
Details and reaction to follow…
Also coming up today
Bank of England governor Andrew Bailey will testify to parliament's Treasury Committee on the economic impact of Covid-19 this afternoon, alongside fellow policymakers Dame Colette Bowe, Alex Brazier, Dave Ramsden and Gertjan Vlieghe.
It's quite a busy day for economic news, including new Spanish unemployment figures which will illustrate the impact of the pandemic on its tourism economy.
The latest monthly US payroll changes from ADP will show how many jobs were created by American companies last month. Plus the latest oil inventory reports will show if energy demand rose or fell last week.
After falling to a three-month low on Tuesday, the FTSE 100 is expected to recover somewhat today. The index is called up 50-ish points at 5903, having dropped by 101 yesterday.
Last night, Wall Street closed at fresh record highs, with technology stocks continuing their remarkable ascent. Zoom is now worth more than IBM after posting a huge jump in revenues and users on Monday night. Apple's now worth more than the entire FTSE 100, having surged 80% this year.
The agenda
7am BST: Nationwide's survey of UK house prices in August
8am BST: Spanish unemployment for August
1.15pm BST: The ADP survey of US private sector employment for August
2.30pm BST: Bank of England governor Andrew Bailey and colleagues at the Treasury committee
3pm BST: US factory orders for July
3.30pm BST: US weekly oil inventory figures