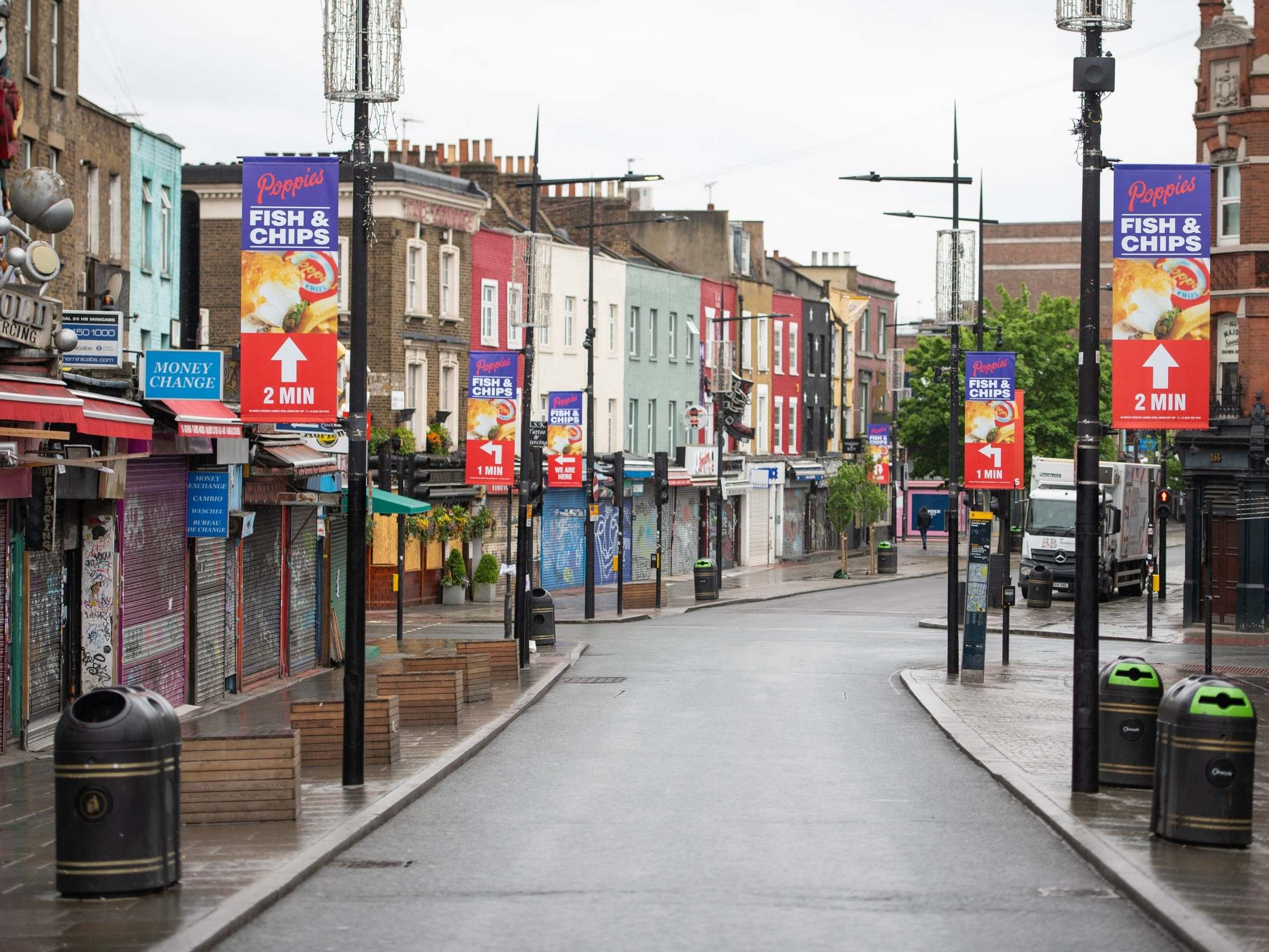 The UK economy plunged by 20.4 per cent in April in the biggest fall since records began, the Office for National Statistics has said.
Official figures show Britain's gross domestic product (GDP) shrank by more than a fifth in the first full month of the coronavirus lockdown, as shops and factories closed and workers were sent home.
It is the largest drop in a single month since records began in 1997.
Jonathan Athow, deputy national statistician at the ONS, told BBC Radio 4's Today programme, the fall in GDP "is really unprecedented".
He added: "Actually, if you take March and April together the fall was 25 per cent. So in two months the economy shrank by a quarter.
"The biggest fall we have seen before was just over 2 per cent – so it's 10 times the size of the largest fall we have seen before the coronavirus.
"Virtually every sector has been shrinking."
The fall massively outstrips the then-record 5.8 per cent drop in GDP seen in March.
It means GDP fell by 10.4 per cent in the three months to April and sets the UK on course for one of its worst quarters in history.
May's GDP figures are also likely to be awful, before things start to ease again in June as the economy slowly reopens.
Experts had been expecting April's GDP to contract by 18.7 per cent, according to a consensus compiled by Pantheon Macroeconomics.
Shadow chancellor Anneliese Dodds has warned the UK economy is shrinking at a faster rate than those of other developed countries.
Speaking on BBC Breakfast, Ms Dodds said: "What particularly concerns me is that actually we're not just looking at one month of economic damage.
"There was a report that came out a couple of days ago from the OECD [Organisation for Economic Co-operation and Development] and it suggested the drop in GDP for this year for the UK would actually be worse than for every other industrialised nation.
"So we're in a very, very difficult situation as a country and we will need strong action to help us climb out of this as quickly as possible."
Neil Birrell, chief investment officer at asset manager Premier Miton, added: "Other countries' data is improving as lockdown eases and the concern is that the UK is getting left behind and, as we are currently witnessing, equity markets are very sensitive to any threat to recovery."
Tej Parikh, chief economist at the Institute of Directors, said many businesses will still need support as lockdown slowly lifts.
"Emergency loan schemes have helped stop firms collapsing, but left many saddled with debt," he said.
"Businesses will be reluctant to hire and spend on new projects as they repair their finances, particularly as social distancing eats into demand and productivity. Firms will continue to face cashflow challenges in the months ahead."
Additional reporting by PA