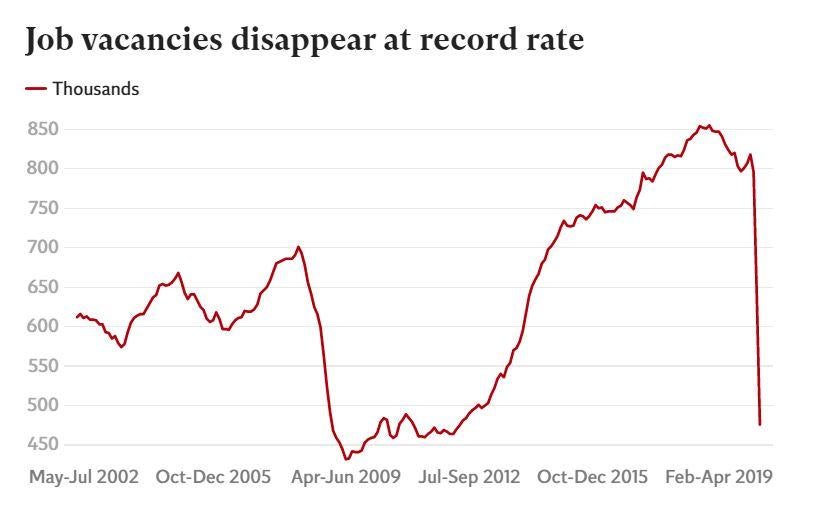 The number of people on employers' payrolls fell by 612,000 between March and May in the clearest sign yet of problems facing the UK's jobs market.
Official data released on Tuesday show that vacancies, pay and employment all fell while the number of people claiming jobseeker's allowance or universal credit to support their income rose sharply.
Here are the key figures from the Office for National Statistics.
Real-time data from HM Revenue and Customs indicates that the number of PAYE employees fell 2.1 per cent (612,000) between March and May as large parts of the UK economy shut down to slow the spread of Covid-19. Most of the fall came in April. Figures from May are an early estimate.
Employers let staff go and halted recruitment, with many new starters finding out that their job offers had been withdrawn and they were not eligible for government support.
Numbers of self-employed people working also fell at a record pace.
While the unemployment rate remained low up to the end of April, 8.4 million people were temporarily off work by this time. This is four times the level seen in the last three years, with the increase due largely to the job retention scheme under which millions have been furloughed.
Some furloughed workers will not have a job to go back to when employers have to begin contributing increasing amount towards wages of staff who return to work part-time from 1 July through to October. The big question for the government is: how many?
An additional 1.6 million claims were made for universal credit and jobseeker's allowance between March and May. The combined figure, known as the claimant count, rose 125 per cent in that time.
This includes unemployed claimants and those whose pay is below the threshold that allows them to claim universal credit to top up their income.
There were an estimated 476,000 vacancies in the UK in March to May 2020; this is 342,000 fewer than the previous quarter and 365,000 fewer than a year earlier.
Experimental single-month estimates indicate a record decrease of approximately 60 per cent of vacancies between March 2020 and May 2020.
Average weekly earnings fell 0.4 per cent in the three months to April when adjusted for inflation.
This is the first time since the three months to January 2018 that we have seen total pay fall in real terms.
Looking at the monthly figures shows average earnings fell 4.3 per cent in real terms from £1,858 in February to £1,778 in April.
The ONS said that the introduction of social distancing and the closure of some activities impacted both the supply and demand for labour.
Support measures such as the furlough scheme, self-employed income support scheme, and state-backed loans for businesses have helped protect employment.