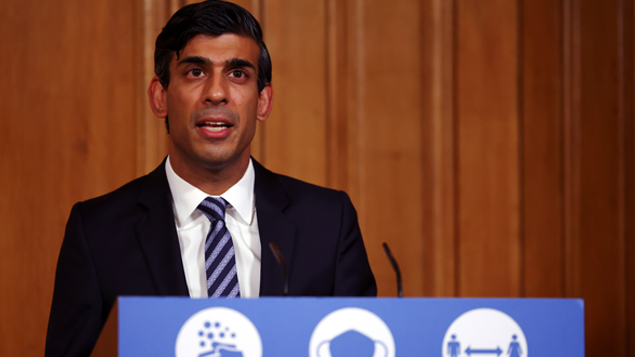 Henry Nicholls/PA Wire/PA Images
The chancellor is expected to announce that furlough will be extended beyond December for firms required to shut because of local or national coronavirus restrictions.
According to reports, the Coronavirus Job Retention Scheme will continue to be made available to parts of the UK under the highest levels of Covid-19 restrictions, with the government covering 80% of wages.
Rishi Sunak is preparing to announce the changes in the House of Commons today, just hours after the Bank of England launched a £150bn stimulus package designed to lower borrowing costs to help struggling businesses and individuals.
He is also expected to clarify that the additional support will apply to future lockdowns in Scotland, Wales and Northern Ireland, as there had been confusion surrounding whether the extended CJRS was available to devolved nations when it was announced alongside England's 28-day lockdown.
It is not yet known what will happen to the Job Support Scheme (JSS), which was expected to succeed the CJRS this month, or the Job Retention Bonus for employers who have retained previously-furloughed staff.
Pressure on the government to extend support for employers has mounted over recent weeks, as coronavirus infections have risen and restrictions were reintroduced in parts of the UK.
The level of financial support offered to employers has gradually fallen since the CJRS was introduced in March, with the government covering 60% of furloughed employees' wages in October. That changed on Saturday when the Prime Minister announced the lockdown that started in England today, together with an extension of the CJRS "until December".
In fact, the CJRS has not been extended, but restarted, with the rate of support last seen in August. The government will pay 80% of wages not worked, but with employers covering national insurance and pension contributions.
Under the government's tiered approach to lockdown and the postponed JSS, workers in areas subject to the most stringent Tier 3 measures receive 67% of their normal salary up to a maximum of £2,100 a month.
During Prime Minister's questions yesterday (4 November), Jeff Smith, the Labour MP for Manchester Withington, asked: "If your workplace is closed under Tier 3 restrictions, you lose your income just as surely as you do if your workplace is closed under the new national lockdown. So why should people receive less help from the government if we go back into Tier 3 after December 2?"
Boris Johnson responded: "They are not going to. The furlough scheme was extended until the end of October. We are putting in measures now to support people across the whole UK throughout this period until December 2, and that is the right thing to do. We are putting our arms round the people of this country to get them through the pandemic and beyond."
Labour MP Stephen Kinnock questioned why furlough had only been extended when stringent measures to stem coronavirus infections were needed in southern England. "When we in Wales went into our firebreak the UK government refused to extend furlough. When the north of England went into Tier 3 the government refused to extend furlough. Now with new restrictions affecting the south-east, the money suddenly appears as if by magic. Furlough must be fair for all, it's as simple as that."
Business lobby groups have called for furlough to be extended into the spring. Carolyn Fairbairn, the CBI's director general, said in a tweet: "As lockdown shutters come down for many firms, extending furlough till next spring is the right thing to do. Firms and employees need more certainty and stability to plan and recover; a JRS extension will help."
Frances O'Grady, TUC general secretary, tweeted on Saturday: "If England is going back into lockdown, for starters the government must guarantee furlough at 80% of wages, open to all employers closed or hit by low demand; get more help to the self employed; fix sick pay. That's how we protect jobs and livelihoods."
On Tuesday, Sunak announced that the self-employed will be able to claim state support of up to 80% of their usual profit during the month-long England lockdown, up from the current 40%.
Latest HR job opportunities on Personnel Today

Browse more human resources jobs