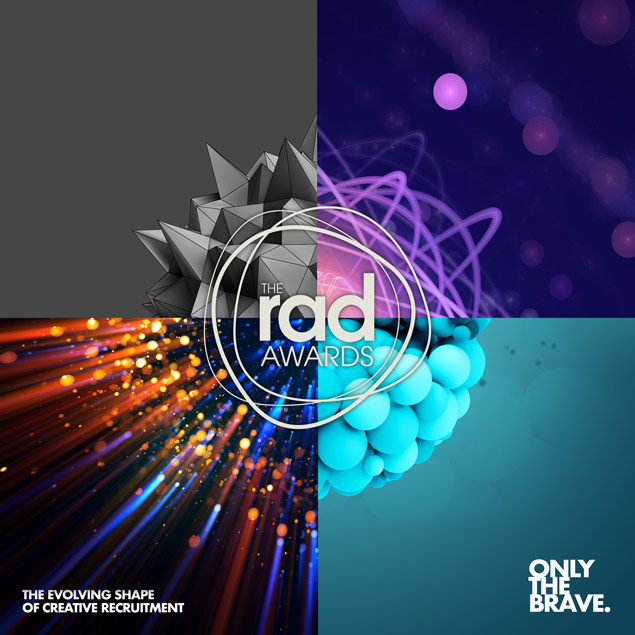 The 2021 RAD Awards have opened for entries as the search for the very best in employer branding, talent attraction and recruitment advertising begins for the 31st time.
Celebrating the talented people, innovative ideas and brave clients, the RAD Awards have unveiled the categories and criteria for the next awards, on an amended timetable due to the Covid-19 pandemic.
There are 20 award categories and a coveted Work of the Year prize selected from the category winners. Each entry is judged by a panel of recruitment specialists from major companies, experts in creative, digital and account direction from some of the UK's leading recruitment marketing agencies, and recruitment technology specialists.
2021 RAD Awards categories
Candidate Experience
Creative Idea
Digital Experience for Early Talent
Diversity and Inclusion Initiative
Early Careers Attraction
Outdoor Experience
Employee Engagement
Employer Brand – International
Employer Brand – National
Employer Website
Events and Experiential
Graduate Campaign
Innovation
Integrated Campaign
Offline Communications
Single Use of Video
Use of Audio
Use of Social
Use of Technology
Video Campaign
Richard Andrews, divisional director for the RAD Awards, said: "Like so many others, we have had to adapt to a new normal due to the pandemic. But it's so important for the industry to come together to celebrate the best and bravest work in recruitment advertising and employer branding."
The RAD Awards also revealed the chair of judges for 2021. Nick Thompson, global employer brand manager at IBM, joins this year's team of expert judges to decide on the best and bravest work in recruitment communications.
"Accepting the role of chair is a huge privilege and also a responsibility that I don't take lightly," said Thompson.
"Making sure that the work of our industry, especially during this time, is reviewed and judged fairly is essential and this has also meant slight changes to a few of the categories to reflect 2020.
"I cannot wait to get stuck in with an amazing bunch of judges this year helping to steer the conversations and debates whilst staying 100% impartial to any entry."
The organisers, part of the Personnel Today Group, said they continue to monitor the Covid-19 situation and will put in place precautionary measures to keep our customers, colleagues and employees safe in line with Public Health England, UK government and WHO's guidelines at the appropriate time.
"For now, we look forward to seeing all the brave work that has taken place in the industry," added Andrews.
The official entry deadline is 8 January 2021.
Download your entry guide here