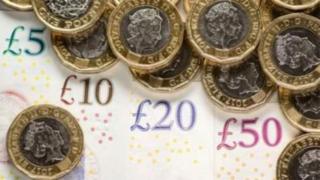 The pound has fallen against major currencies as the prospect of a no-deal Brexit returns.
Sterling was already nudging lower after the government ramped up rhetoric on Brexit, saying the UK would "prosper mightily" with or without a deal.
On Tuesday the pound fell 1.6% to just over $1.30. It fell a similar amount against the euro, to €1.10.
Markets were also unsettled by the resignation of the government's legal department head, Sir Jonathan Jones.
No reason was given for his resignation but the Financial Times reported that he was "very unhappy" amid speculation about changes to the Withdrawal Agreement.
The clock is ticking on an October deadline for a trade deal and the end of the status quo transition arrangement in late December.
Sterling's downward move on Tuesday came after several months of the pound rallying against the dollar.