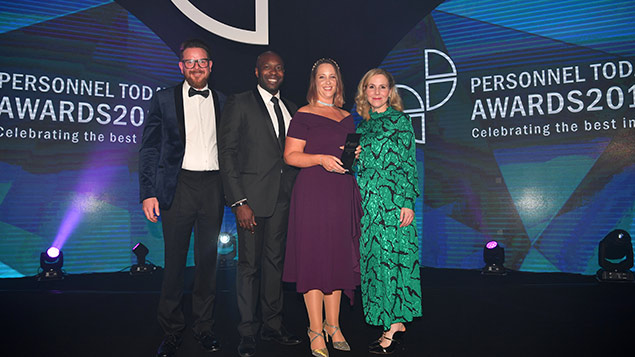 SAP were winners of the 2019 Employer Branding Award
Despite an uncertain jobs market, employer branding continues to be a crucial way to differentiate your organisation to high quality candidates, as well as a means of engaging existing employees. Here are the shortlisted companies in this year's Personnel Today Awards Employer Branding category. 
Balfour Beatty with SMRS
Infrastructure company Balfour Beatty wanted to build an employer brand that reflected the fact its reach went far beyond the world of construction. It wanted to create more of an emotional connection, to better compete for candidates with niche skills and support a wider shift in the way its resourcing team worked. The new brand had to span the entire talent lifecycle, convey the complexity and scale of the business, as well as provide consistency during a period of industry upheaval.
Personnel Today Awards 2020
The Personnel Today Awards are going online this year! Register here and join us in celebrating the winners on 26 November.
The company worked with SMRS to first gather opinions from the workforce via a survey of almost 1,200 staff, as well as asking candidates and suppliers for their thoughts. Focus groups and interviews with senior leaders, together with the survey findings, came together in a 397-page report. The research concluded that Balfour Beatty's key attributes were to leave a legacy; spark something; work to be proud of; control your career; include everyone; and join the journey. These values came under the umbrella of 'Shape Everything'.
The company has brought the values to life in a number of ways, including an 'essence' video, a new careers site, a specialist recruitment campaign for hard-to-find IT professionals, an employee referral programme, bespoke line manager communications and connections to learning and development. One highlight is a 'Shape Everything' branded internal mobility portal that will make opportunities across the company more visible. Over the last 12 months, Shape Everything has generated 304 sign-ups for the internal mobility programme; reduced agency reliance from 9% of hires to 6%; reduced time to hire by three days; reduced cost per hire by a third and increased the overall number of hires from 1,162 between January and September 2019 to 1,317 this year.
---
Citipost Mail (CPM) with The Write Impression & Guy Clubb Designs
Citipost Mail (CPM) has grown rapidly since it started in 2006, and now has revenue in excess of £100 million per year. The company wanted to refresh its brand while restructuring its teams to reflect its maturity as a business. It also wanted to encourage future talent and create a brand identity of which employees would be proud. Research among employees told them that the existing brand identity was "tired," "dated," and "an embarrassment", with many brand assets not updated since 2006.
CPM decided to work with new specialist partners for its PR, strategy and communications, bringing in The Write Impression to handle PR and Guy Clubb Designs to work on brand guidelines and refresh. The partners worked with employees to understand specific pain points and needs the branding needed to address. A surprise visit to the Citipost Mail offices from 'David Brent' created the opportunity for Citipost Mail to have its own version of 'The Office.' The resulting spoof episode video went viral.
The Write Impression helped CPM to transform client communication and in-house messaging so that the language and tone were easy to understand. Within weeks, employees were using new assets to do their jobs more effectively and a 'Mail Room' internal newsletter acknowledges individual and group achievements. A new website was written and built in just 20 weeks. Staff are prouder of the company and more engaged, and the effect on recruitment has been significant, with candidates clear on the culture and ethos of the company straight away.
---
DAC Beachcroft
Law firm DAC Beachcroft faced tough competition for talent, particularly thanks to the fact that looser restrictions on who can sell legal products has seen unexpected new players entering and diversifying the legal market, raising demand for candidates. In addition, the last recession saw firms pare back on recruiting trainees, resulting in a shortage of talent in subsequent years.
The firm wanted to understand why employees enjoyed working there and to define its employer brand, what made it different to other firms and how to maximise this to improve employee loyalty and retention. It engaged Blackbridge Communications to support research and rebranding. DACB held focus groups across different locations and roles, performed a top-line analysis of four close competitors and did interviews with six senior leaders within the firm to seek their views on what makes the firm a good employer.
The key theme that emerged was: 'our success is based on understanding individuals and treating them well'. This is underpinned by secondary propositions, pulled together under the umbrella employer brand concept 'A Life That Works'. To bring the proposition to life, 40 colleagues took part in a photo shoot, using this imagery alongside colleague career stories that reinforce the brand propositions. Stage two of the project is now underway, a review of employee experience.
The impact of the employer brand review has been positive, with a 575% increase in the number of shares a DACB post receives on LinkedIn. Voluntary turnover has reduced from 22.7% to 18%. The new careers microsite saw over 2,000 page views on launch day, and 83.1% of visitors to the site during February 2020 were new visitors to the site (vs 16.9% returning visitors). There was also an uplift in direct applicants in the first month after the new careers microsite went live, while the branding has supported new talent initiatives such as the firm's apprenticeship and returner programmes.
---
GVC
GVC is one of the largest and fastest-growing businesses providing sports betting and gaming, and has grown significantly through mergers and acquisitions. It completed the merger of Ladbrokes and Coral in 2018 and acquired MGM in 2019. Yet from an external candidate's perspective, GVC had no recognition and no brand equity, relying on the power of its brands to recruit.
The company also needed to address a confusing application experience for candidates. They might apply to work at Coral on a Ladbrokes Careers site, with a contract supplied by GVC, so there was no consistency. GVC wanted to build a global employer brand framework that aligned the internal workforce, raise awareness around GVC, yet allowed the local culture and brands to retain their individual identities. It brought in employer brand agency, Ph.Creative.
Ph was given the task of aligning people internally across offices, brands, locations and countries, developing a story that would knit everything together. It came up with an umbrella brand of 'For the Good of Entertainment', which would be used to drive engagement internally but also higher-quality applications from external applicants. Photos and cinemagraphs have been used to create unique imagery that can be shared across digital channels and social media. Ph built a careers website with social assets so the audience could explore the content and career opportunities. Tailored blog content was developed to target the 'personas' GVC felt it should attract into the business.
A bespoke brand portal, GVC Backstage, integrates with the company-wide SSO (single-sign-on), so that all employees can access the brand furniture, as well as toolkits and guides on how to use and implement the employer brand. The brand is also visible on HR, reward systems and the intranet. A bespoke employee referral programme known as 'The Scout' enables employees to become talent spotters, integrated with the company's applicant tracking system. The career portal attracted 84,000 individual career site visits in the first month alone, an increase of over 300% on the normal levels of web traffic on the previous careers site. In the first month of launch, GVC received 19,427 applications, with an average conversion rate of 18% (an increase from 12% previously). Ninety-one percent of job application page views resulted in a completed application.
---
John West
John West is the UK's leading brand of canned fish. The company offers a competitive package to employees and a wealth of benefits as part of global seafood business Thai Union. However, despite being a household name, awareness of John West as an employer was low. Many new employees had no perception of the brand prior to joining, and the company wanted to become a 'destination employer' and also improve internal employee engagement.
The company engaged an external agency to conduct an audit of how John West was perceived; employees valued the family culture and Liverpool headquarters but externally few knew it was part of a bigger global business. Employees or CREW were recruited as brand ambassadors and given social media training to promote the brand on its website and LinkedIn. John West also created a dedicated HR micro-site, highlighting its values, 'life on deck', the 'voyage so far' and how to join, as well as career development opportunities within Thai Union.
Since launch, awareness scores in the North West have greatly improved and the company has broadened its social media following. Page views on LinkedIn have increased by 11%, reactions have gone up by 35%, the number of comments on posts has doubled, and shares have risen by 700%. Average time to hire has almost halved from 81 days to 44 days. Employee turnover dropped from 22% to 15% and engagement scores increased.
---
Now Teach
Now Teach was founded by Lucy Kellaway and Katie Waldegrave to provide a pathway for people to change their career and train to become teachers. It is now into its fourth year and has grown in size from 35 to 140 recruits. When Now Teach was first set up, the likelihood that a 50-year-old trainee teacher would still be in the classroom a few years later was just 10%, and this was something the organisation sought to change.
The organisation wanted to differentiate itself from the Department for Education's own recruitment efforts by launching its 'Your Experience Counts' campaign. This was aimed at an audience of mid-senior professionals with years of experience under their belt. It carried out a series of candidate surveys to see what motivated people to apply, and responded to the findings by launching a four-day-a-week training pathway as well as mentors, coaches and subject knowledge experts to support trainees with their move.
Now Teach promoted its network through a mix of PR stories about a career change into teaching and an integrated paid media plan which sought to increase awareness of the brand and knowledge of its mission. Despite the challenges of Covid, the organisation was on track to hire 140 new trainees this September: 48% have master's degrees and almost three-quarters will work in teaching shortage subjects.
With research showing that those who have a positive training experience are more likely to stay in the profession for over five years, retaining trainees is crucial. Now Teach has focused on providing three key things: competence (they feel confident in what they do), autonomy and relatedness (they feel connected to employees). So far, 93% have remained in teaching, while the other 7% have stayed in education in some way.
Recruitment and resourcing opportunities on Personnel Today

Browse more recruitment and resourcing jobs