Contributor:

Richard Saundry, Professor of HRM – University of Sheffield

|


Richard Saundry, Professor of HRM – University of Sheffield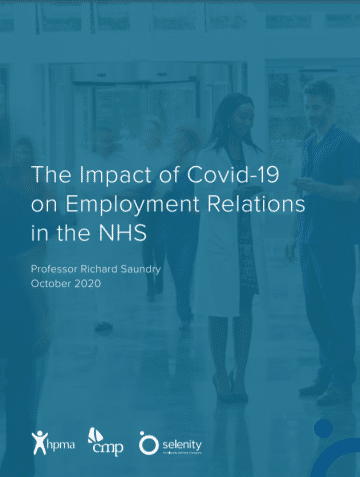 Improved employment relations in the NHS during the Covid-19 crisis has demonstrated the value of informal dispute resolution to HR, according to new research.
Professor Richard Saundry, one of the UK's leading experts on workplace conflict, gathered insights from more than 250 NHS Human Resources leaders, senior practitioners and trade union representatives for the report The Impact of Covid-19 on Employment Relations in the NHS, on behalf of the HPMA (Healthcare People Management Association), CMP (workplace relationships specialist) and Selenity (provider of HR and finance solutions).
The report confirms the challenges faced by NHS staff as they dealt with the anxiety and workload pressures created by the crisis: more than 8 in 10 survey respondents agreed that Covid had a 'detrimental impact on the health and wellbeing of staff' in their organisations. 57% reported increased stress-related absence during the pandemic while nearly two-thirds saw an increase in referrals to occupational health. A number of respondents reported concerns among BAME staff that they were being exposed to unnecessary risk.
The numbers of disputes fell significantly during the first wave of Covid-19. While this was mainly due to the postponement of formal conflict and disciplinary procedures, the research also found that increased camaraderie and solidarity had improved relationships. Just over 75% of respondents felt that disciplinary and grievance issues were bogged down in lengthy procedures. The lockdown period had, by contrast, led to an increase in partnership working between management and unions, improved communications, more agile working and flexibility. There was also some evidence of managers developing informal and creative solutions to workplace problems. Nonetheless, NHS HR professionals were concerned that some of these positive developments might be more difficult to sustain in the future.
Professor Saundry said: "The traditional approach to employment relations in the NHS tended to prioritise the management of risk and the application of procedure, often with significant negative impacts on staff. In recent years there has been a welcome and growing acknowledgement of the critical connection between staff wellbeing and engagement, and patient care. In many ways this been underlined during the pandemic and the NHS now has a vital window of opportunity to embed the value of good people skills and people management as a core strategic priority."
HR professionals agreed on the need to address a deficit of 'softer' people skills among managers. It was argued by some respondents that leadership development programmes often neglected the tools and techniques that managers needed to identify, address and resolve conflict. Poor line management was seen as a typical source of conflict, while only one-third of respondents felt that managers were well equipped to resolve difficult issues.
Arran Heal, Managing Director of workplace relationships specialist CMP, said: "The Covid-19 crisis constitutes a major opportunity for the profile of HR. For the moment, people and wellbeing are front and centre of organisational thinking and that's the chance to make progress on cultural change – to create the kind of open, listening and learning culture that's so important for solidarity and resilience."
Dean Royles, President of the HPMA (Healthcare People Management Association) calls for greater investment in developing the HR function in the NHS. He said: "Covid 19 has been devastating for so many people but it has been a time when HR in the NHS has come of age. HR has long been seen as transactional and procedure and process rich. However we have seen a largely positive picture on improving employment relations in the NHS despite the enormous pressure staff have faced, as well as effective working with trade unions.
"The pandemic has highlighted the critical role HR has in protecting and promoting positive relationships at work. To sustain this we now need to see significant investment in the ongoing training and development of HR professionals in the NHS to help embed improved communications with staff, enhanced health and well-being, greater organisational agility and the creative use of new technology.
"We know the next few months will be tough on the country and for the NHS, but I know that the NHS HR community will continue to give their best as we enter a second wave and build on what we have learned over the last seven months."
Andy Shettle, Employee Relations Specialist at Selenity, commented: "This report has provided us with a rich insight in to the real life impact Covid-19 has had on employee relations in the NHS, both the positives – improved team working resulting in a reduction in conflict and unsurprisingly the negatives – a detrimental impact on the health and well-being of staff both front line and support roles."