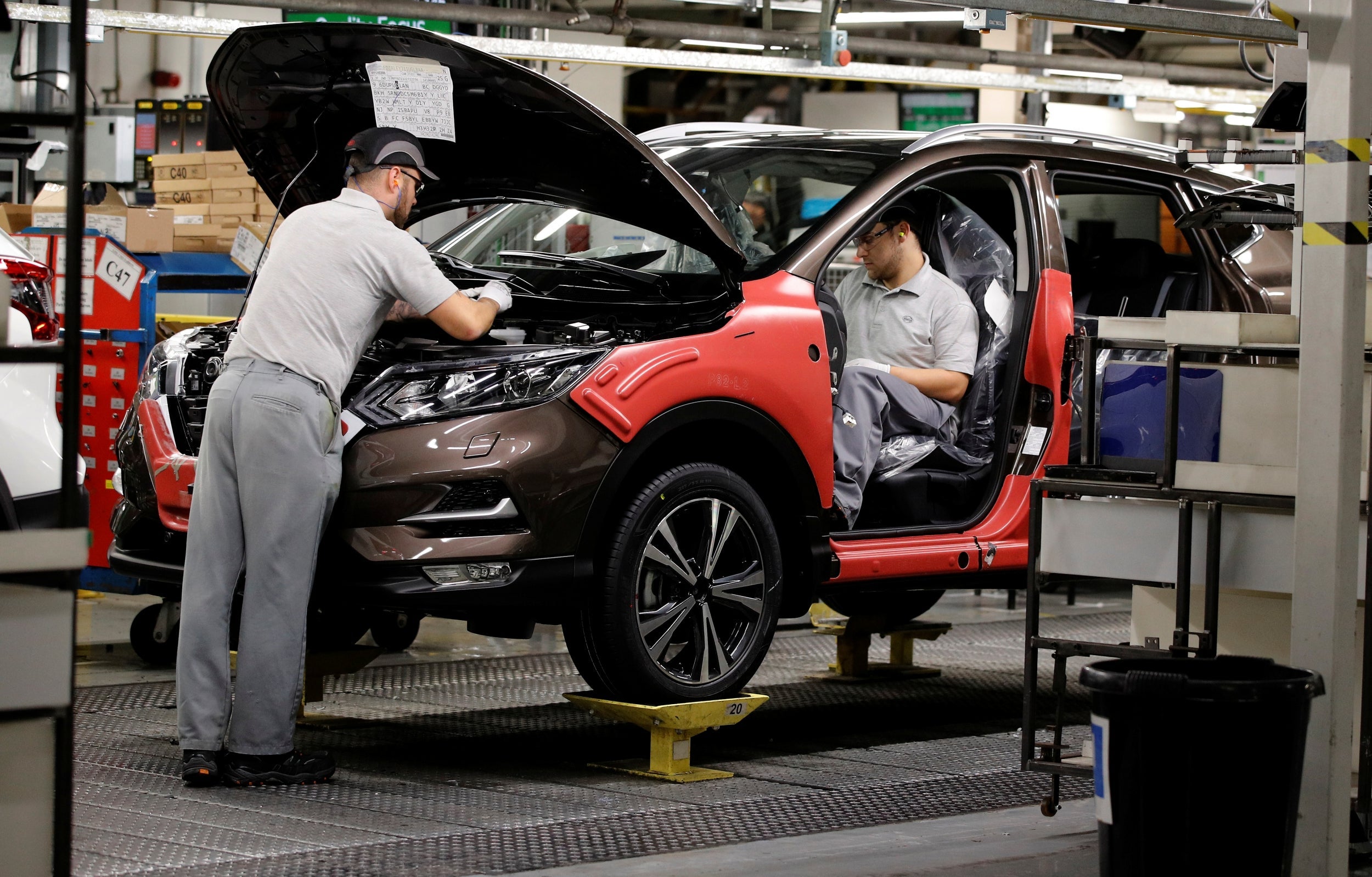 Nissan has spared its Sunderland plant from cuts as it announced the closure of a factory in Barcelona with the loss of 2,800 jobs.
The Japanese car maker revealed on Thursday it had slumped to a 671.2 billion yen (£5bn) annual loss, its first in eleven years, as the industry battles an array of problems including falling demand in China, a shift to low-emission vehicles, Brexit and coronavirus.
Nissan announced a four-year plan aimed at slashing costs by 300bn yen (£2.3bn) and turning around the company's fortunes.
That plan incudes closure of a plant in Indonesia and another in Barcelona where workers have been protesting for several weeks after production was temporarily shut down due to the Covid-19 pandemic. Unions pledged to form a human chain around the factory on Thursday in protest at the news.
Around 7,000 workers at Nissan's Sunderland plant will be spared the axe but chief executive Makoto Uchida did not rule out future cuts.
Mr Uchida said: "We will maintain core manufacturing in Sunderland and also improve efficiencies. We considered various measures in Barcelona and although it was a very difficult decision we intend to close the plant."
Nissan's Sunderland plant is a major employer in the northeast of England and supports thousands more jobs through its supply chains.
The factory – considered to be among the most advanced car production lines in Europe – has been at the centre of a row over Brexit since former Nissan boss Carlos Ghosn warned back in 2016 that its future could not be guaranteed because of tariffs that might be imposed.
Theresa May's government offered assurances to Nissan in order to keep the plant open but has refused to publish details of what promises were made.
That Nissan has chosen to keep the factory open will be seen as a vote of confidence in its Sunderland operations and a boost for the UK government.
Despite concerns over the uncertainty of Britain's trading relationship with the EU, Nissan said in March that it would go ahead with a £400m investment at the Sunderland site. Less than two weeks later, production was suspended after coronavirus prompted a drop in demand and caused difficulty importing parts from Japan.
Earlier this month, the government published its plans for tariffs to come into force once a trade deal is agreed with the EU. Under the plan, the UK will keep a 10 per cent charge on imported cars. The EU has eliminated tariffs on imports of millions of cars through a number of bilateral trade deals, including one with Japan.
Mike Hawes, chief executive of the Society of Motor Manufacturers and Traders, said at the time: "Today's announcement compounds the critical need for the UK to secure free trade agreements, starting with our biggest trading partner, the EU, but also with other key global markets, including the US, Japan and Turkey."
Last year Nissan's saw global sales fell 6.9 per cent. Europe was hit hardest with a drop of 19.1 per cent.
The company reported an annual operating loss of 40.5 billion yen for the year to 31 March, its worst performance the tail end of the financial crisis in 2008-09.
It sold 4.8 million vehicles during the period, down 13 per cent on last year, allowing Honda to take its position as Japan's second biggest car manufacturer behind world-leader Toyota.