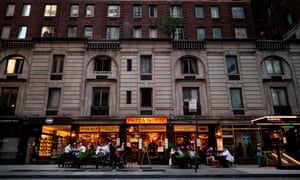 Good morning, and welcome to our rolling coverage of the world economy, the financial markets, the eurozone and business.
After heavy losses yesterday, there's an edgy mood in the markets today as investors are spooked by the sharp rise is Covid-19 cases in the US.
Stocks have fallen sharply in Asia-Pacific already, down from four-month highs, after US authorities reported that new Covid-19 cases are rising at the fastest rate since April.
The possibility of a dreaded second wave of infection knocked 710 points, or 2.7%, off the Dow last night, with transport companies and energy stocks among the big fallers.
My colleagues Amanda Holpuch and Maanvi Singh explain how the situation is deteriorating in parts of the US:



A coronavirus resurgence is wiping out two months of progress in the US and sending infections to dire new levels in southern and western states. Administrators and health experts warned on Wednesday that politicians and a public that, in many cases, is tired of being cooped up are letting a disaster unfold.

While newly-confirmed infections have been declining steadily in early hot spots such as New York and New Jersey, several other states set single-day records this week, including Arizona, California, Mississippi, Nevada, Texas and Oklahoma.
The global picture is that cases worldwide passed 9.4 million on Thursday, and is expected to pass 10 million by the end of the week. At least 480,000 people have died so far.
With cases worldwide rising by one million a week, some investors must be wondering if the markets got ahead of themselves in the last couple of months.
Jim Reid of Deutsche Bank says volatility is back, with a bang.



A plethora of bad news about the virus led to a major sell-off in risk assets yesterday as volatility returned to financial markets once again.

It wasn't a single bad headline that led to the plunge, but a drip-feed of negative stories that all combined to show increasing signs of a deteriorating situation on the virus, most obviously in the US. In terms of the news there, Florida (the 3rd most populous US state) saw its number of Covid-19 cases rise by 5.3% yesterday, some way above the previous 7-day average of 3.7%, and the number of hospitalisations rose by 256 in the state, the largest increase in a month.

California also saw a record jump in cases, with over 8800 new ones yesterday. This equated to a 4.8% rise – notably above the 2.5% average daily rise over the last week.
The prospect of a new trade war also hit stocks, after the US outlined plans to impose tariffs on $3.1bn of European products such as olives, pastry and cakes, beer, gin and vodka.
So, after plunging 3% or 196 points yesterday, Britain's FTSE 100 index is expected to dip again this morning.
Later today we'll discover how strongly retail sales picked up in the UK and US since lockdowns were eased… plus the latest weekly US unemployment report.
The agenda
11am BST: CBI distributive trades survey of UK retail sales in June
1.30pm BST: US durable goods sales for May
1.30pm BST US weekly jobless figures