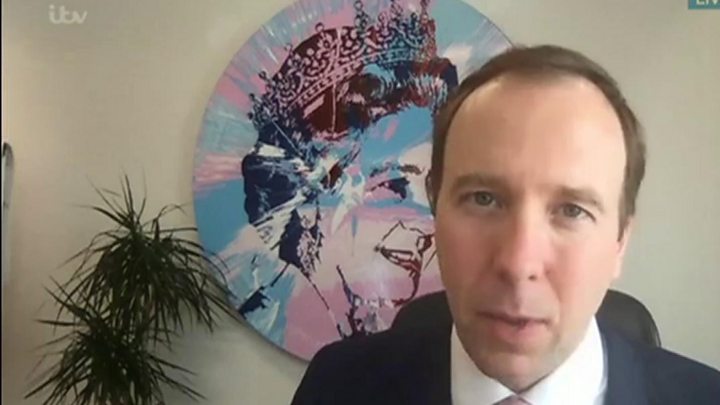 Many British people are unlikely to be able to take foreign holidays this summer because of coronavirus, Health Secretary Matt Hancock has said.
In another blow to airlines and ferry firms, he told ITV's This Morning it's "likely to be the case" there won't be a normal summer holiday season.
The government is opening up parts of the economy, and Ryanair is planning to start services in July.
But Mr Hancock said the traditional big-break holiday season is unlikely.
Social distancing will have to be maintained for some time, he said. "The conclusion from that is it is unlikely that big, lavish international holidays are going to be possible for this summer."
Mr Hancock's comments came as many airlines detailed plans to restart flights.
Ryanair boss Michael O'Leary, who last month said that leaving the middle seat free to help social distancing was "idiotic", said he planned to sell as many seats as possible this summer.
The airline is planning to operate nearly 1,000 flights a day from July, up from 30 today. It said face coverings being worn by all crew and passengers and cashless on-board transactions would help keep passengers safe as well as a new system for toilet breaks.
Passengers will have to ask crew to use the toilet to stop queues forming.
The announcement came despite government plans to introduce a 14-day quarantine for international travellers to prevent a second spike in the virus, infuriating airlines which planned to resume flying in the coming months.
Willie Walsh, boss of rival firm IAG, which owns British Airways, criticised the move, warning it would force him to review his plans to ramp up flights in the summer.
"There's nothing positive in anything I heard the prime minister say [on Sunday]," he told MPs.
Virgin Atlantic also released its summer schedule for 2021 on Tuesday, promising more flights to Tel Aviv as well as routes linking Florida with Manchester, Glasgow, London Heathrow and Belfast after it pulled out of Gatwick.
John and Irene Hays, owners of travel company Hays Travel, which took over Thomas Cook's shops last year, said the news has not dampened people's enthusiasm to get away.
Mr Hay told BBC Radio 5 Live: "There is a real desire to go on holiday. People have been locked down, and in terms of new bookings we're getting strong demand."
Talking about trips which were booked earlier in the year, Mrs Hays added: "Many people are not cancelling, they are just deferring their holiday or in some cases holding on to a credit note for now."
Mr Hays also thought that having to self-isolate at home for 14 days after returning from abroad may not stop people travelling.
"If people in the UK are already in lockdown, they might be happy to spend another fortnight at home. Some people might say go to Spain or somewhere, have a nice holiday and then come back and continue their lockdown," he said.
Mr Hancock's comments echo those from Transport Secretary Grant Shapps last month who warned people not to book summer holidays – domestic and overseas – until social distancing rules are relaxed. "I won't be booking a summer holiday at this point," he told the BBC on 17 April.
Airlines, and the travel industry generally, have been among the biggest financial losers of the international lockdown.
Aircraft fleets have been grounded and thousands of job cuts announced, with British Airways shedding 12,000 jobs and Virgin 3,000 jobs.