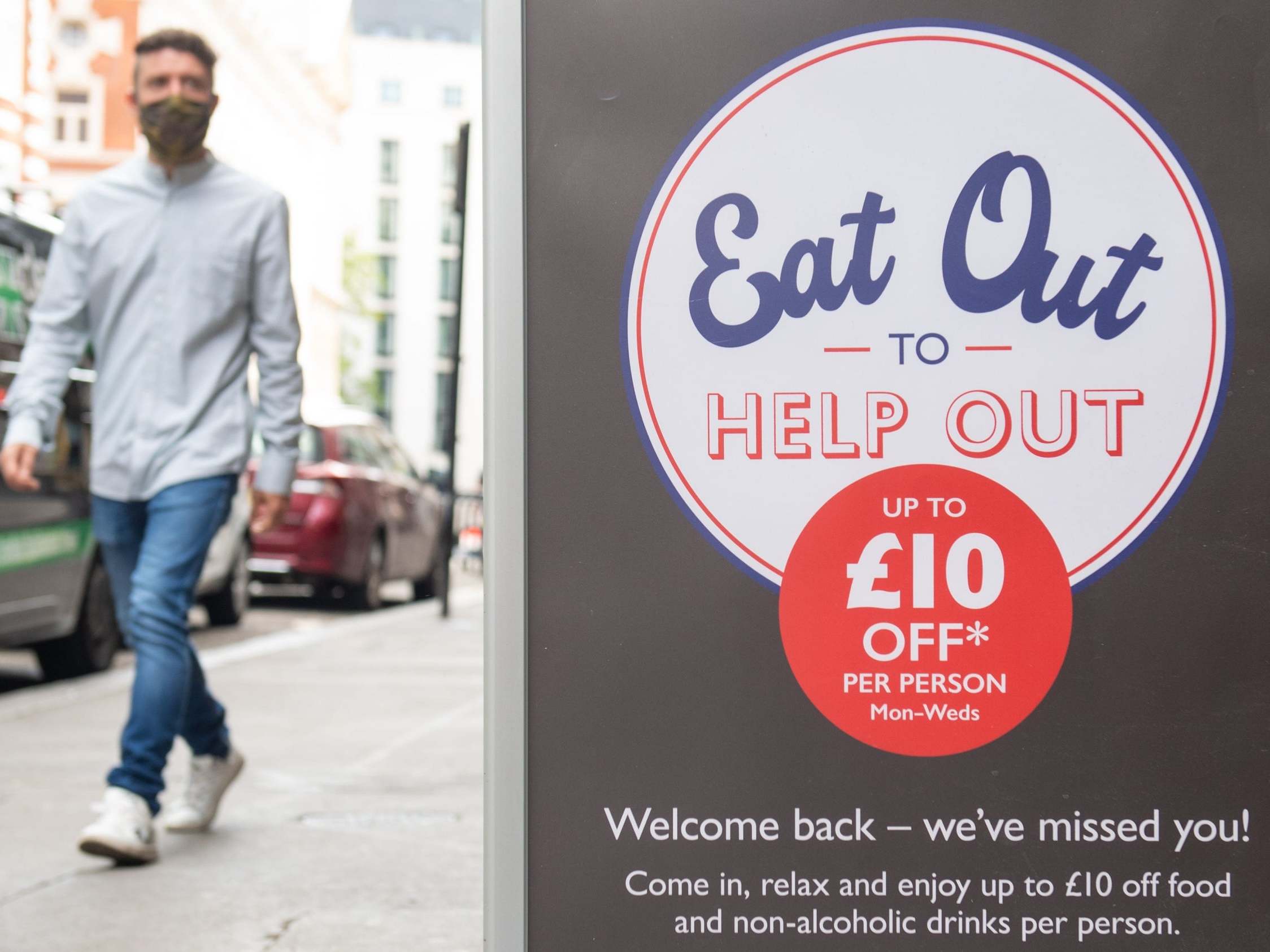 The Eat Out to Help Out scheme should be extended to give small food and drink firms a continued boost throughout September, business leaders have said.
The Federation of Small Businesses (FSB) is urging chancellor Rishi Sunak to extend the scheme into September as businesses "enter a period of economic make or break".
The scheme, which incentivises diners to eat out by offering a 50 per cent discount of up to £10 per person, saw more than 64 million meals claimed as of 25 August.
According to the latest figures from HM Treasury, more than 84,000 restaurants registered for the scheme, which applies the discount to food and non-alcoholic drinks from Monday to Wednesday. The government subsidises meals bought on the scheme and reimburses the discount cost to participating businesses.
Mike Cherry, the national chair of the FSB, said Eat Out to Help Out has been an "overwhelming success" but it needs to be extended "to continue the critical support that it is providing for small firms".
He said a nationwide extension of the scheme for September would help businesses that are "still only just about managing" to get back on their feet after the coronavirus lockdown hit the hospitality industry hard.
"Additional support is still needed for certain groups in the leisure sector, especially pubs," added Mr Cherry. "We need to see these community hubs fully brought into the Eat Out to Help Out fold, particularly as they have been excluded from the recent VAT cut for food.
"Beyond September, the scheme should be reactivated in areas that have gone through local restrictions or lockdowns. It's vital that we continue to offer as much support as possible in areas where restrictions have been reintroduced."
The scheme, which ends on 31 August, has drawn praise from both restaurant owners and customers alike. But several businesses are nervous about just how much sales may drop once customers can no longer eat out for less.
Restaurant owners have reported a significant dip in customers coming in to eat or drink from Thursday to Sunday, when the discount does not apply. Several venues in the Midlands have chosen to extend it without the government's help to keep customers coming through the door, reported Birmingham Live.
Mr Cherry said: "These remain difficult times for the small business community, with the stress and strains of this crisis continuing to be felt. That's why we urge everyone to show support for their favourite small firms at every opportunity.
"We must do all we can to safeguard the futures of the small firms that make up 99 per cent of our small business community. They will be pivotal to our recovery from this recession."
The Independent has contacted the Treasury for comment.