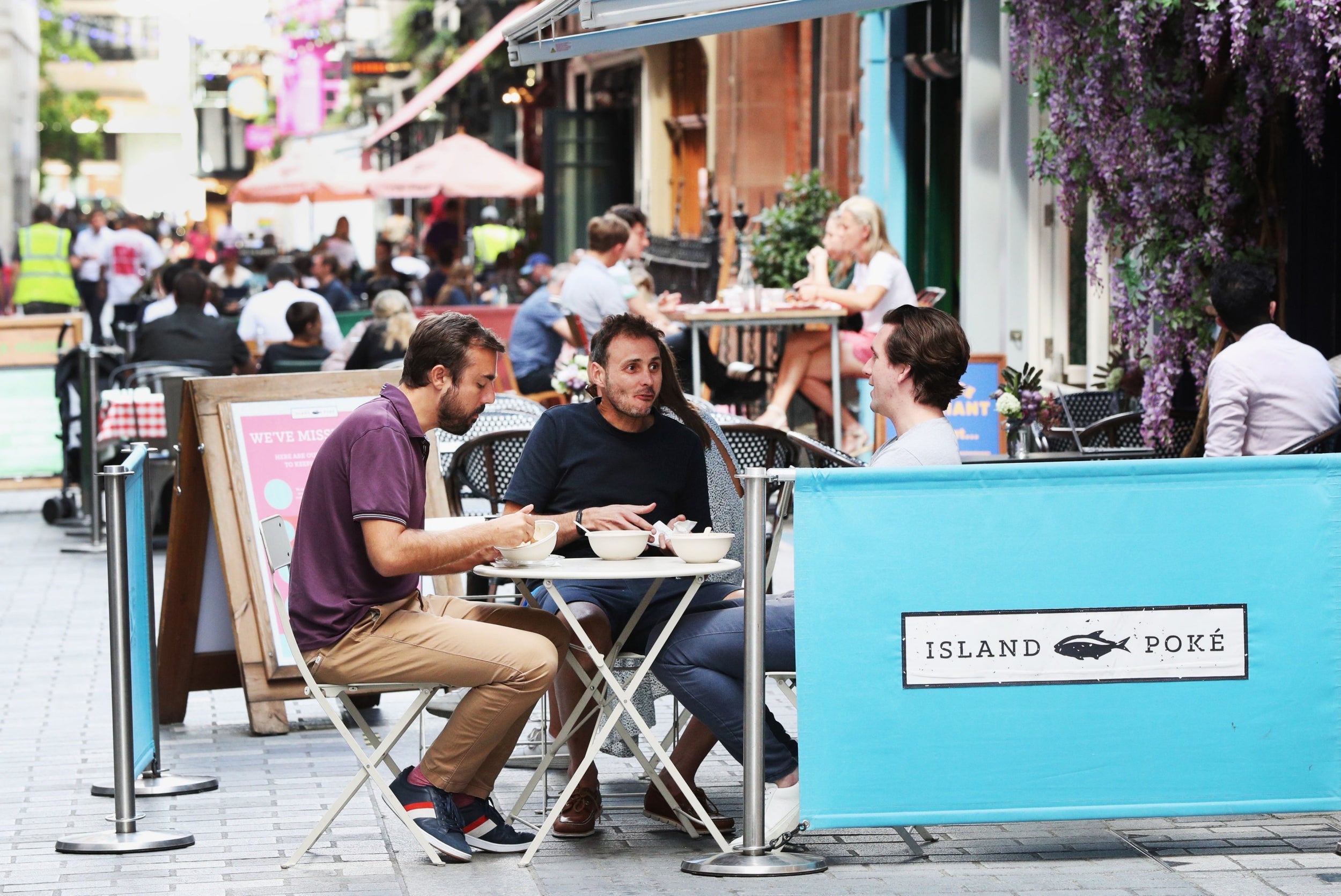 Diners ticked into more than 10 million meals under the government's restaurant meals scheme last week, after the Treasury promised to cover up to 50 per cent of the bill.
Restaurants claimed for 10,540,394 individual meals in the first week of the Eat Out to Help Out scheme, the Treasury said. If two people eat out together, that counts as two individual meals in the statistics.
Under the scheme, diners get 50 per cent off the price of meals up to total discount of £10 on Mondays, Tuesdays and Wednesdays throughout August.
More than 83,000 restaurants have signed up so far with businesses hailing it as a lifeline but warning that the hospitality industry remains in crisis.
Visits to high streets after 6pm last Monday rose 19 per cent on the week before while lunchtime trips were up 10 per cent, according to Springboard, which compiles footfall figures. However, numbers remain well down on last year.
"Britons are eating out to help out in big numbers," said Rishi Sunak, the chancellor.
"And they aren't just getting a great deal – they're supporting the almost 2 million people employed in this sector," he said.
The scheme is part of a package of measures – including grants and a VAT cut – designed to help the UK's struggling pubs, bars and restaurants.
In total, the UK hospitality sector employs up to 3 million people and has been among the hardest hit by coronavirus and social distancing measures.
Operators across the country reported significant double-digit increases in sales last week compared to the same time last year, with tables in high demand for the rest of the month, according to trade body UK Hospitality.
Colin Hill, chief executive, Nando's UK & Ireland, said Eat Out to Help Out has given a "welcome boost" to the hospitality industry as it tries to reignite sales, restore customer confidence and protect jobs.
He added: "It's too early to tell the long-term success of the initiative due to the many challenges that we still have to navigate in the weeks and months ahead, but so far it has proven popular with our customers."
Will Beckett, co-founder of Hawksmoor, which has received over 15,000 bookings for the 13 days of the scheme across its six restaurants, said: "Although we've seen lower sales due to the lower spend per head, we're still incredibly happy – everyone loves having busy restaurants and lots of new people are coming in and trying Hawksmoor for the first time, or finding a way to come back that they can afford at the moment."