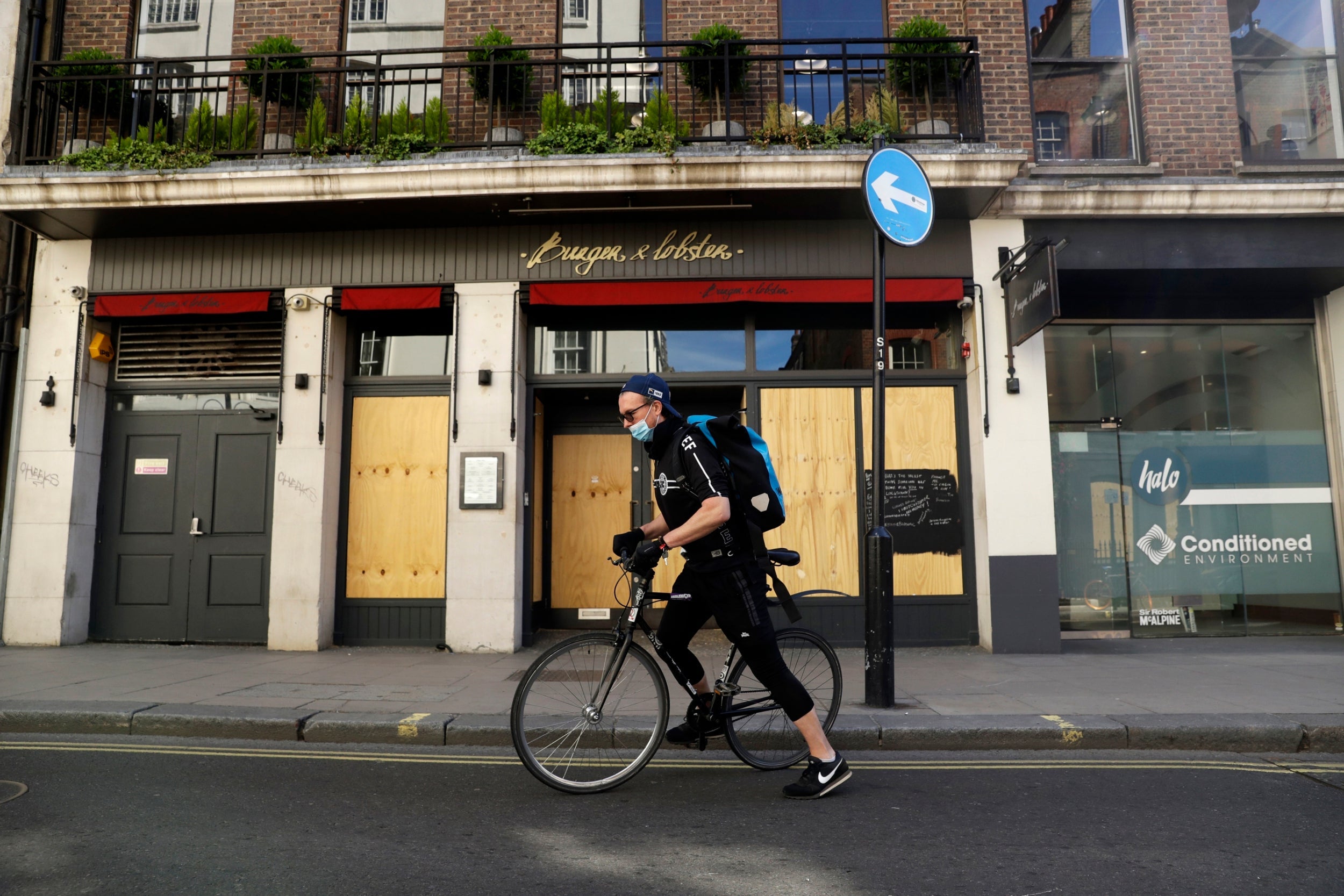 Medical couriers delivering coronavirus testing samples for the NHS have voted to strike after the company employing them refused to offer the riders themselves tests.
They also allege that NHS contractor The Doctors Laboratory (TDL) targeted eight couriers for redundancy because they had been active in campaigning for improved working conditions.
The move is potentially another blow for the government's new system to test and trace coronavirus infections which has been criticised by clinicians who say it is not ready, despite ministers' assurances.
On Thursday, couriers employed by TDL, a subsidiary of Australian firm Sonic Healthcare, announced they had decided to take industrial action after the company failed to address their health and safety concerns.
A letter sent by TDL's chief executive to one courier on 20 March stated that drivers would not be tested by the company as the government's advice at the time was that this would add "no value". Regular testing of couriers is still not being carried out but those with symptoms are now being tested, TDL said on Thursday.
TDL describes itself as the "largest UK independent provider of highly specialised pathology/clinical laboratory services to clinicians (GPs and specialists), hospitals, community health services, and their patients".
Its network of couriers collect and drop off medical samples such as blood tests from hospitals and surgeries before delivering them to labs for analysis. During the pandemic they have entered hospitals with a high number of Covid-19 patients to pick up testing samples.
The Independent Workers' Union of Great Britain (IWGB), which represents the couriers, says that this potentially puts them at high risk of infection but the company has not engaged with their safety requests. The union wants regular testing and adequate personal protective equipment (PPE), as well as full sick pay for workers who need to self-isolate because they are aged over 60 or have pre-existing medical conditions. It also alleges that TDL has not implemented proper social distancing in the company's loading bay.
The IWGB has filed a trade union and whistleblower victimisation claim against the company at the employment tribunal on behalf of eight of its members, who say they were targeted for redundancy on "bogus" grounds.
The eight workers believe the company is attempting to make them redundant because of their involvement in previous disputes over issues including rider safety and pay.
TDL strongly rejected the IWGB's allegations. It said only 46 of its 157-strong workforce had voted to strike based on "unfounded" allegations which the company categorically denies. IWGB said that 84 per cent of members who returned their ballots voted in favour of industrial action.
A TDL spokesperson added: "It is inconceivable that TDL would deliberately expose any of its workforce, of whom its courier fleet is an important part, to undue risk at any time but especially now.
"All TDL's health and safety protocols, which includes access to Covid-19 testing for those with symptoms, are compliant with current regulations and UK Government guidelines, are kept under constant review by TDL's director of health and safety, and when they change, TDL's protocols change with them."
The company said its team of 10 bicycle couriers were being made redundant because of a downturn in the London area where they operate.
TDL cycle courier and IWGB couriers and logistics branch chair Alex Marshall said: "I'm incredibly proud of the work we have done during this pandemic.
"TDL's cycle couriers are among the best in the industry, have an impeccable attendance record and in times of tremendous stress have provided a model service to the community.
"Instead of rewarding us, management has decided to take away our only means to feed our families in the middle of a pandemic. But the resounding vote in favour of strike action shows that despite management's attempts to break us, we are more united than ever."
Labour MP and former shadow chancellor John McDonnell tweeted in support of the couriers who he said had been "pushed to the limit" by their employer.
"This issue needs to be addressed urgently by @MattHancock if the plan for testing & tracking is to be effective," Mr McDonnell wrote.
"Sacking these couriers playing a key role in helping tackle the pandemic is completely counterproductive."
The government's test, track and trace system got off to a stuttering start on Thursday, when an army of 25,000 contact tracers had been due to begin work.
The programme's first day was beset by problems and the government has admitted it will not be "fully operational" until the end of June.
Several contact tracers told The Independent that they could not access the website when it launched on Thursday morning, with staff left unable to work.
It is hoped track and trace will allow the country to come out of lockdown while still keeping control of coronavirus case numbers but some experts have warned that infection rates in the UK remain too high to implement the system effectively.