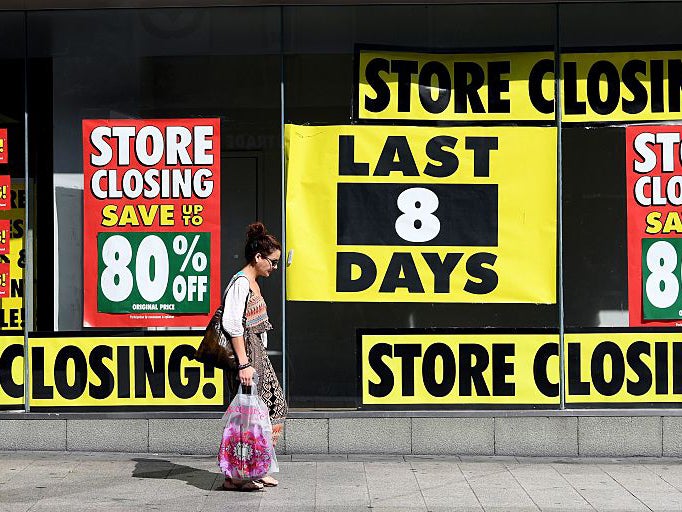 The UK will see its economy shrink more than that of any other country in the developed world as a result of coronavirus, according to the Organisation for Economic Cooperation and Development.
It forecasts that GDP will collapse by 11.5 per cent this year, more than Spain, France and Italy, which have experienced some of the worst coronavirus outbreaks and have implemented stricter lockdown conditions than the UK.
Worryingly, the intergovernmental organisation of wealthy countries predicts that the UK economy will contract by 14 per cent if there is a second spike of Covid-19 cases. The OECD forecasts that the global economy will take a 6 per cent hit, by far the biggest drop of any projection in the organisation's 60-year history.
The research, which covers 46 industrialised nations, delivers another warning to Boris Johnson's government, as ministers announce plans to ease a host of restrictions over the coming weeks.
Non-essential shops are to open on 15 June, the business secretary Alok Sharma confirmed on Tuesday, while pubs and bars are set to welcome customers again from 4 July.
The relaxation comes despite Public Health England (PHE) research estimating that there are around 17,000 new cases daily, with infection rates rising in the northwest and southwest.
At a national level, PHE estimates that the number of people each person is infecting – the R number – is close to 1, meaning that a small increase in the R number would see case numbers rise again.
The Faculty of Public Health expressed its concern last week that too many people still have the virus for the country to return to "something approaching normal life".
"We believe the urgent priority for the UK is to learn from the success of these countries by setting an objective of having no new community cases of Covid-19 as quickly as possible," Maggie Rae, president of the faculty, wrote in the British Medical Journal.
The OECD's forecasters focused on two "equally probable scenarios" – one in which a second wave of infections, with renewed lockdowns, hits before the end of 2020, and one in which another major outbreak is avoided.
In the latter scenario, they estimate that the UK will see GDP reduced by 11.5 per cent this year, a drop almost three times as large as in 2009 during the wake of the financial crisis.
The OECD found that trade, tourism and hospitality, which make up a large part of the UK economy, have been particularly badly impacted by the virus.
France and Spain are both expected to see their respective economies shrink by 11.4 per cent with Italy faring marginally better at 11.3 per cent.
Germany, which has controlled the pandemic more effectively than many other European countries, is forecast to see its economy contract 6.6 per cent this year.
If a second wave of infections hits, forcing countries to bring back some restrictions on people's freedoms, the OECD expects Spain to experience the worst recession, with its economy contracting by 14.4 per cent compared to 14 per cent for the UK.
"The 6 per cent decline in global GDP is larger by far than any we have projected in the 60 years since the OECD was created," said OECD general secretary Angel Gurria.
"Hundreds of millions have become unemployed – and that is in the scenario where no second wave of infections happens."
If a second wave were to hit, global GDP is predicted to shrink by more than 7.5 per cent and around 40 million more people will lose their jobs, he added.
He reiterated his warning that to see the pandemic as presenting a choice between lives and livelihoods was a "false dilemma".
"If the virus is not brought under control, there will be no robust economic recovery," Mr Gurria said.
OECD chief economist Laurence Boone said: "Both scenarios are sobering, as economic activity does not and cannot return to normal under these circumstances.
"By the end of 2021, the loss of income exceeds that of any previous recession over the last 100 years outside wartime, with dire and long-lasting consequences for people, firms and governments."
She added: "Extraordinary policies will be required to walk the tightrope towards recovery.
"Even if growth does surge in some sectors, overall activity will remain muted for a while.
"Governments can provide the safety nets that allow people and firms to adjust, but cannot uphold private sector activity, employment and wages for a prolonged period."
Responding to the report, Rishi Sunak said the UK was not the only country to suffer economic damage.
The chancellor said: "In common with many other economies around the world, we're seeing the significant impact of coronavirus on our country and our economy.
"The unprecedented action we've taken to provide lifelines that help people and businesses through the economic disruption will ensure our economic recovery is as strong and as swift as possible."