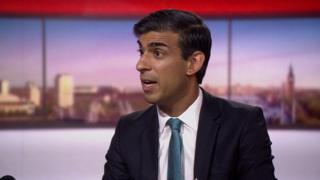 People should feel confident that it is safe to go shopping when non-essential shops reopen in England on Monday, Chancellor Rishi Sunak has said.
Retailers have taken "extraordinary steps" to make sure environments are safe during the coronavirus pandemic, he told the Andrew Marr Show.
Perspex screens, social distancing and customer limits will all help create a protected environment, he said.
"All of that will mean people can feel safe," he said.
While food shops and pharmacies, as well as other essential retailers including banks and petrol stations, have been open throughout the lockdown, non-essential stores, such as book shops and fashion outlets, have been shuttered since 23 March.
From Monday, most retailers can open as long as they follow safety guidelines. Those who fail to ensure their premises are Covid-secure could face enforcement notices.
Perspex screens at the tills and floor markings to keep shoppers 2m (6ft 5ins) apart – already a regular fixture in supermarkets – will be a key feature.
Other measures will include pleas not to touch items unless customers intend to purchase them and decontaminating shopping baskets after each use.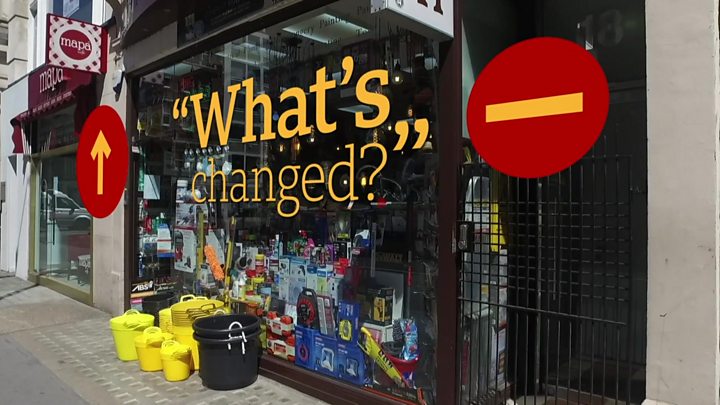 It comes as Prime Minister Boris Johnson faces increased pressure to ease the 2m social distancing rule, which many ministers see as crucial to the further reopening of the economy.
Mr Sunak told the BBC the government would "actively" look again at the measure, given its "enormous impact" on the profitability of businesses.
"You are right to highlight the impact it has on business – it is the difference between maybe three-quarters and a third of pubs opening, for example, so it is important we look at it."
It is understood the review will aim to report back by 4 July – currently the earliest mooted date for the reopening of pubs, bars, restaurants and hairdressers in England.
While other countries have enforced a lesser distance of 1m (just over 3ft), in keeping with the World Health Organization's recommendation, the UK government's scientific advisers have so far maintained that being 1m apart carries up to 10 times the risk of being 2m apart.
"Ultimately it is for ministers [to decide]," said Mr Sunak.
"We are the people who are elected to make decisions in this country. People should hold us responsible and accountable for making those decisions."
The Chancellor acknowledged many people would be "anxious" at the prospect of going out shopping again after almost three months in lockdown.
But he stressed "it is a safe environment and we should all be able to go out knowing that we should be able to shop in confidence".
"Shops up and down the country are desperate to welcome us all back and I think we all want to see our high streets spring back to life again," he said.
Nonetheless, more than half of UK customers expect they will now go shopping less , according to a survey of more than 1,000 people by accountancy giant EY.
The British Retail Consortium (BRC), the trade body for retailers, is urging the public to "play their part" in making shopping safer. Along with 25 other retailers, it says customers should follow five steps:
Queue considerately
Maintain social distancing
Follow instructions inside and outside shops
Follow all necessary hygiene measures
Be respectful to shop staff