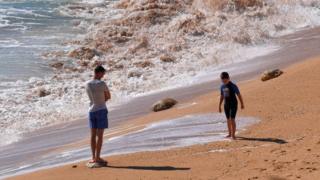 The government is planning to relax its travel quarantine rules in early July for some countries.
Talks are taking place between UK officials and officials in a number of European countries, including Portugal.
However, the UK hopes to make an announcement on 29 June that it has secured a number of "travel corridors".
The government had previously said that the quarantine would be reviewed every three weeks and 29 June marks the end of the first three-week period.
A travel corridor would mean that two people travelling in both directions between two countries would not have to self-isolate after they travel.
However the broader travel quarantine is expected to remain in place.
A senior aviation source has told the BBC that the quarantine could remain throughout the summer for anyone arriving from countries which do not have a travel corridor with the UK.