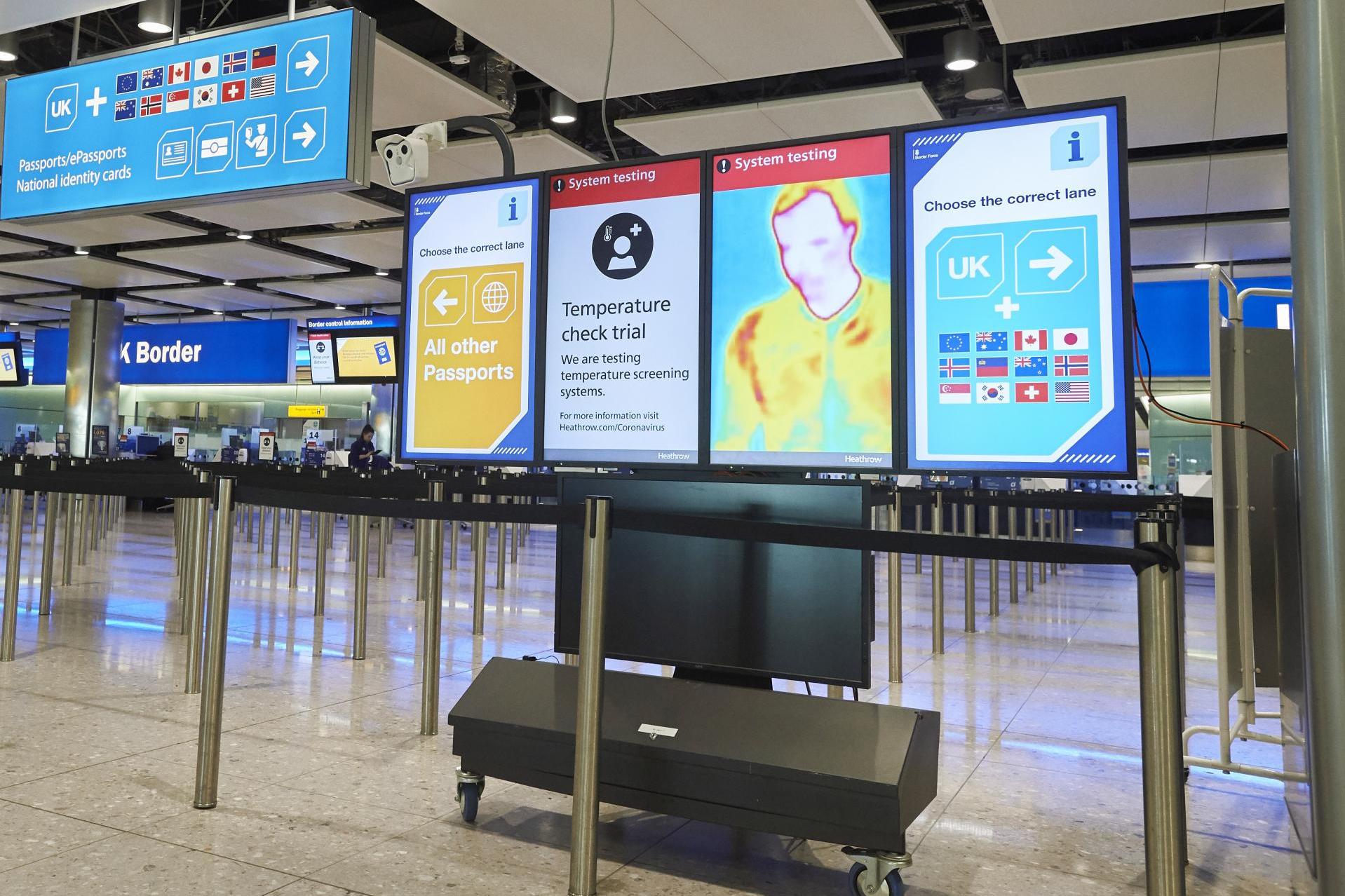 Shortly after 5pm on Friday, Priti Patel will reveal details of the UK's first mandatory quarantine order.
The home secretary will use the No 10 daily briefing to confirm that from early June – possibly as early as the first of the month – travellers arriving in the UK by air, sea or rail must self-isolate at home for 14 days.
Journeys within the Common Travel Area, covering the Republic of Ireland, the Channel Islands and the Isle of Man, will be exempt.
Some essential professions, including truck drivers, government officials and medical staff travelling for work, will also escape the obligation to remain at home for two weeks.
On arrival, travellers will be required to provide the address where they will spend the ensuing two weeks. Fines of £1,000 or more for those who breach self-isolation have been proposed.
Ms Patel will also set out arrangements for arriving travellers with no home to go to. They will be required to stay put in accommodation arranged by the government.
Even though the World Health Organisation backs mandatory isolation of arriving travellers only in the earlier stages of an outbreak, Downing Street sees it as an eye-catching and popular move.
The government says: "Now that domestic transmission within the UK is coming under control, and other countries begin to lift lockdown measures, it is the right time to prepare new measures at the border."
Ministers have trailed the quarantine policy all month, with multiple and often contradictory briefings to journalists.
Boris Johnson formally announced a version of quarantine on 10 May, initially saying it applied only to arrivals by air.
Another potential loophole emerged when No 10 briefed that the prime minister had struck a deal with President Macron for a bilateral exemption with France.
That possibility was subsequently retracted. But as heated discussions continued over a policy that is certain to damage Britain's ailing travel industry still further, the transport secretary floated the option of "air bridges".
Grant Shapps' proposal for certain nations signing mutual quarantine-free deals with the UK was rebutted by Downing Street.
But The Independent understands that when quarantine comes up for review, air-bridge arrangements are likely to be used to justify lifting the 14-day obligation for arrivals from the most popular holiday destinations.
Ms Patel's announcement will have the immediate effects of encouraging anyone who was planning to travel to the UK in the near future to do so by the end of May, and deterring British holidaymakers from going abroad.
The move comes just as travel businesses were aiming to restart operations. The timing will defeat "Project Lift-off," and instead trigger the widespread cancellation of flights and holidays while stifling new bookings.
The travel industry believes that no significant fresh outbound sales will be made while the open-ended prospect remains of a fortnight's mandatory self-isolation on return.
Business leaders have called for quarantine to last a matter of weeks rather than months, in the hope that something can be salvaged from the main holiday months of July and August.
Millions of holidaymakers with forward bookings for the summer will now demand to know from tour operators and airlines whether or not their trips are going ahead.
The two biggest holiday companies, Tui and Jet2, were planning to restart operations in mid-June. They are likely to cancel packages at least until July.
Anticipating the announcement, Tui is now offering holidaymakers booked to travel in June, July or August the opportunity to postpone their trips.
Quarantine will also wipe out inbound tourism and business travel for the early part of the summer.
British Airways planned to commence operations at scale in July, but had said that quarantine could kill off the plan.
Ryanair and easyJet are also aiming to launch a wide range of services in July. Michael O'Leary, chief executive of Ryanair, has predicted the quarantine policy will be widely flouted.
"People will simply ignore something which is so hopelessly defective," he said.