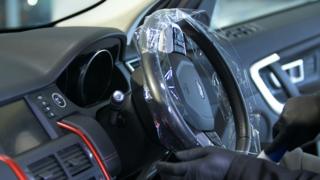 Car dealership Lookers has announced it will cut up to 1,500 jobs with the closure of more showrooms in the UK.
The company reopened its showrooms on Monday after the government lifted coronavirus lockdown restrictions.
Luxury carmaker Aston Martin also announced 500 redundancies, a week after naming a new chief executive.
It comes as the SMMT trade body said only 20,000 new cars were registered in May – down 89% year-on-year – in the worst May performance since 1952.
Car manufacturers, suppliers and showrooms have been closed for weeks, with consumers in lockdown and holding off big-ticket purchases.
Altrincham-based Lookers will shut another 12 sites – either by closure, merging with other showrooms or refranchising – on top of the 15 dealerships being closed already under plans announced in November.
The closures, blamed on what Lookers called "the structural changes taking place across the industry", will leave it with 136 dealerships across the UK
Lookers, which employs 8,000 people, resumed trading from all its sites on 1 June with social distancing measures in place.
Chief executive Mark Raban, said: "We have taken the decision to restructure the size of the group's dealership estate to position the business for a sustainable future, which regrettably means redundancy consultation with a number of our colleagues."
Aston Martin also announced 500 job cuts, to "right-size the organisational structure and bring the cost base into line with reduced sports car production levels, consistent with restoring profitability," it said in a statement.
Last month, the 107-year-old company reported a deep first-quarter loss after sales dropped by almost a third due to the impact of the pandemic.
The cuts come a week after Aston Martin confirmed that Tobias Moers, boss of Mercedes-AMG, would become chief executive on 1 August, replacing Andy Palmer.
Sales collapse
The scale of the problems facing the motor industry were underlined on Thursday in new figures from the Society of Motor Manufacturers and Traders (SMMT).
British new car registrations tumbled by 89% in May on the same month last year, only slight improvement on April's record 97% collapse.
Last month's new registrations of 20,247 units represented the weakest May since 1952. Sales were down 51.4% in the first five months of 2020 but the industry is hopeful that a re-opening of dealer showrooms in England this week will help to spur a recovery.
However, Mike Hawes, the SMMT's chief executive, said: "Early reports suggest there is good business given the circumstances, although it is far too early to tell how demand will pan out over the coming weeks and months."
But the uncertainty has not been helped by fresh worries about the UK leaving the European Union without a trade deal.
Nissan's car manufacturing plant in Sunderland, which employs 7,000 people, is "unsustainable" under a no-deal Brexit, the car company told the BBC on Wednesday.