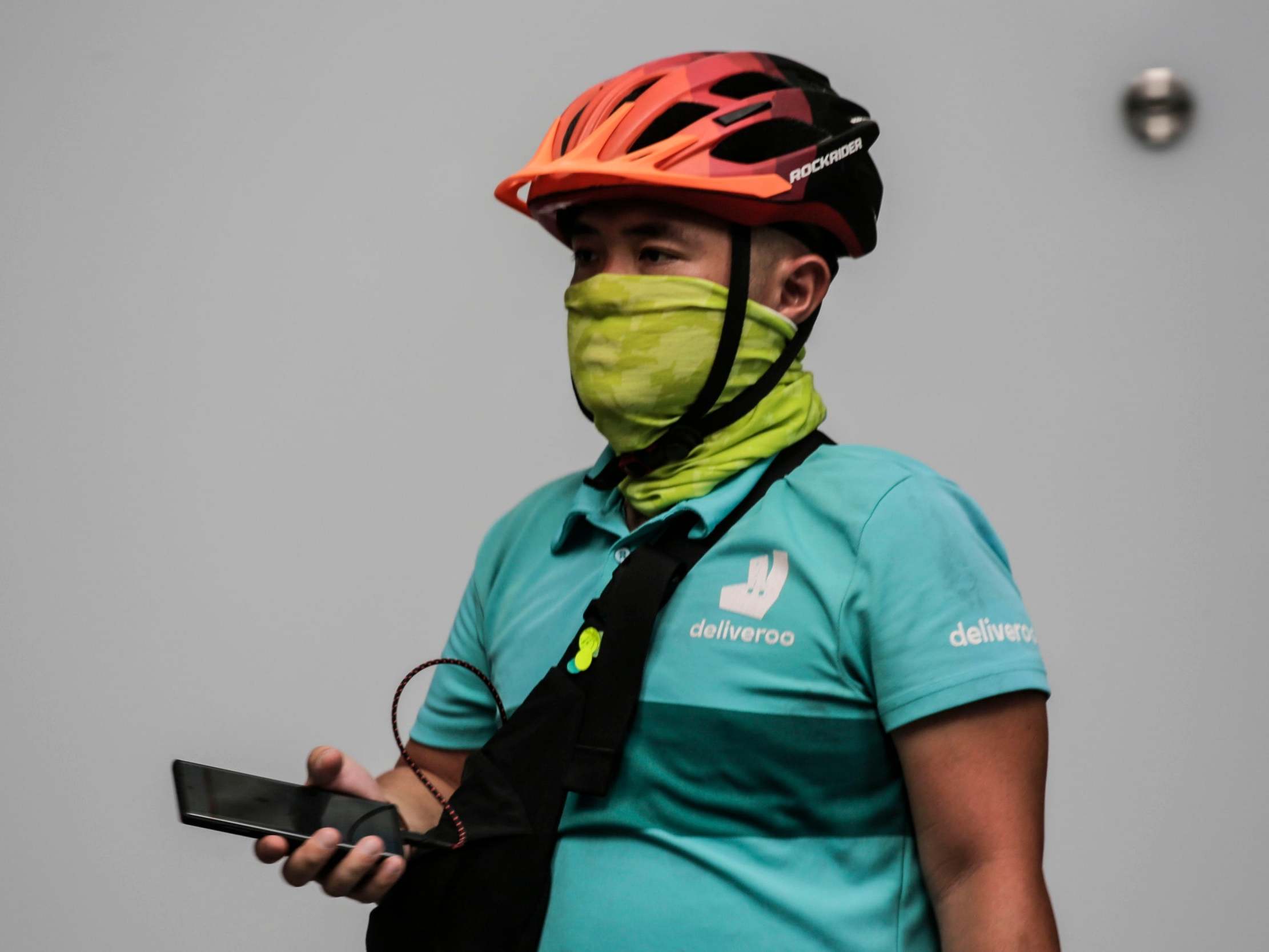 A group of MPs has accused Deliveroo of putting thousands of people at risk by failing to provide personal protective equipment (PPE) to all of its riders.
A letter signed by 44 MPs including former shadow chancellor John McDonnell, Green Party leader Caroline Lucas and Conservative MP Peter Bottomley also called on the food delivery company to cover riders' lost earnings if they have to self-isolate because of coronavirus.
Deliveroo offers riders, who are classed as independent contractors, £100 per week, slightly above the level of Statutory Sick Pay. The company strongly rejected the allegations it put riders or customers at risk and said it had provided PPE to all riders who had requested it. Riders who purchase their own PPE can have the costs reimbursed by Deliveroo, the company said.
The letter, organised by the Independent Workers' Union of Great Britain (IWGB), criticised Deliveroo's "opt-in" system where riders request PPE if they feel they need it. The union said all riders should be provided with masks and hand sanitiser as standard, and ordered to use them.
"Thousands of people are currently being put at risk by your actions," the MPs wrote. "Deliveroo couriers are low-paid, precarious workers, who are not able to self-isolate when sick or to protect their families, and clients and restaurant staff and other key workers including NHS staff are being potentially exposed to infection."
IWGB is also calling on Deliveroo to offer regular tests to all riders and to provide a "minimum standards guarantee", including a guaranteed pay of at least the minimum wage plus costs, holiday pay and sick pay.
Deliveroo courier and IWGB branch secretary Greg Howard said Deliveroo's gig economy business model left riders in a precarious position.
"As Deliveroo is increasingly delivering to vulnerable people, it is not only riders that are being put at risk through this questionable business model, but the public as a whole. This work is vital and it can be done safely, but only if Deliveroo invests in the safety and the rights of its riders."
Deliveroo has consistently maintained that the majority of its riders enjoy the flexibility that the company offers them and do not want to be legally designated as employees with benefits such as sick pay and a mandatory minimum wage.
A Deliveroo spokesperson said: "At Deliveroo, riders are at the heart of everything we do and we are working hard to support them during this unprecedented time. This includes distributing PPE kit to riders across the UK, supporting riders financially if they are unwell and keeping riders safe through contact-free delivery.
"We are incredibly grateful and proud of the vital role riders are playing in their communities, helping the public, including the vulnerable and isolated, receive the food they need and want. We have dedicated teams on hand to support riders every step of the way through this crisis."